Accelerating Compute-intensive Workloads
Maxtang AL-10 mini ITX motherboard is designed with the 12th Gen Intel® Alder Lake i7-1260P, i5-1240P, i3-1220P, i7-1255U, i5-1235U or i3-1215U processor, up to 12 cores and 16 threads, 2.47x times faster graphics performance than the previous generation. Based on a small form factor design, great for IoT deployments that require high-performance, enhanced graphics density.
Supports 2xSO-DIMM DDR4–3200 up to 64GB, features 4xHDMI®2.0, 6xCOM, 4xUSB3.2+4xUSB2.0, 2xLAN, 1xSATA, 2xM.2 connector, PCIe4X, GPIO, and optional TPM2.0 for added security.
The AL-10 Intel® motherboard ITX drives more values for IoT use cases with differentiated capabilities, offers an immersive experience by Intel® Xe Graphics/UHD graphics (varies on CPU), and supports 4K independent displays through 4xHDMI®+1xLVDs/eDP+1x eDP/DP/HDMI®. The motherboard is suitable for surveillance, digital signage, electronic gaming machine, and thin client.


170mmx170mm
(6.7x6.7-inch)


Intel i225/226:2.5GbE Data Rate Per Port
Intel i219: 1.0GbE Data Rate Per Port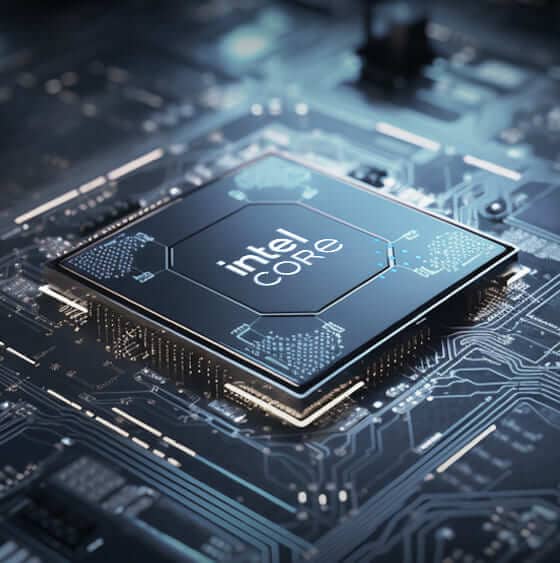 Embrace innovation with 12th Gen Intel®Core™ i7/i5/i3 Processors
Designed to support Intel® 12th Gen Alder Lake P and U series processors, the high-performance CPU on this Intel® mini ITX motherboard boasts up to 12 cores and 16 threads.
This exceptional processing power makes it ideal for a range of demanding applications, including electronic gaming machines, interactive digital signage, thin clients and PDS terminals, medical imaging, and industrial automation.
Enhanced Graphics Density
Immerse yourself in the brilliance of 4K(4096 x 2304@60Hz) resolution videos and images with the AL10 mini ITX. Equipped with integrated Intel® Iris Xe Graphics (eligible) or UHD Graphics (depending on the CPU), it delivers stunning visual performance. Connect up to four independent displays effortlessly using its flexible interface options: 4x HDMI®2.0, 1x LVDS/eDP, and 1x eDP/DP/HDMI® 2.0. This powerful display capability is a game-changer for applications that require remarkable on-image resolution and true-to-life color accuracy at the edge. Experience visuals like never before with the Maxtang mini ITX board.
Compact Embedded Motherboard
The ITX-AL10 motherboard boasts a compact form factor of 170mmx170mm (6.7×6.7 inches), purposefully engineered to excel in limited spaces. It is well-suited for a range of embedded systems and compact computer applications, effectively fulfilling the need for high-performance computing capabilities.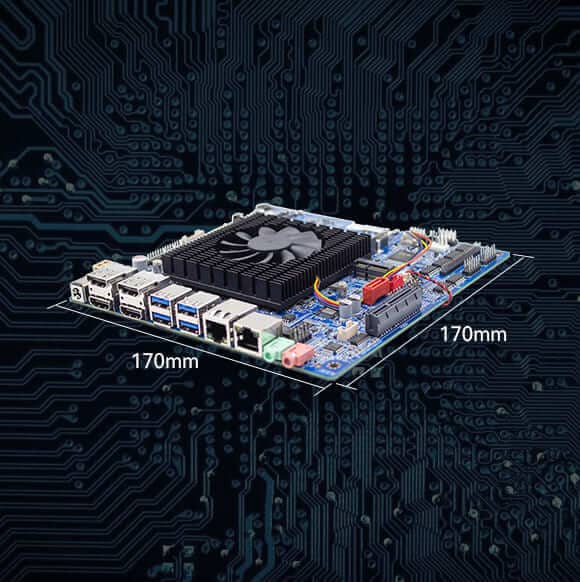 Upgrade Your Network: 8xUSB Ports & 2.5Gbps Speeds
2.5GbE Data Transmission Network!
Unleash the possibilities with 8 USB ports offering blazing speeds for better data/file transition. Experience the versatility of 4xUSB 3.2 Gen2 ports and 4xUSB 2.0 ports. Take advantage of the onboard network controllers, including an Intel® i219 with a 1Gbps rate and an Intel® i225/i226 delivering an impressive 2.5Gbps rate. Instantly enhance your overall network performance and meet the bandwidth demands of large-scale workloads.
Connect to a 2.5GbE high-bandwidth and low-latency data transmission network switch and establish a robust and optimized infrastructure for Smart Surveillance and AI Traffic Monitoring deployments. Enjoy lightning-fast data transfer speeds between devices, providing a seamless and lightning-fast transmission experience.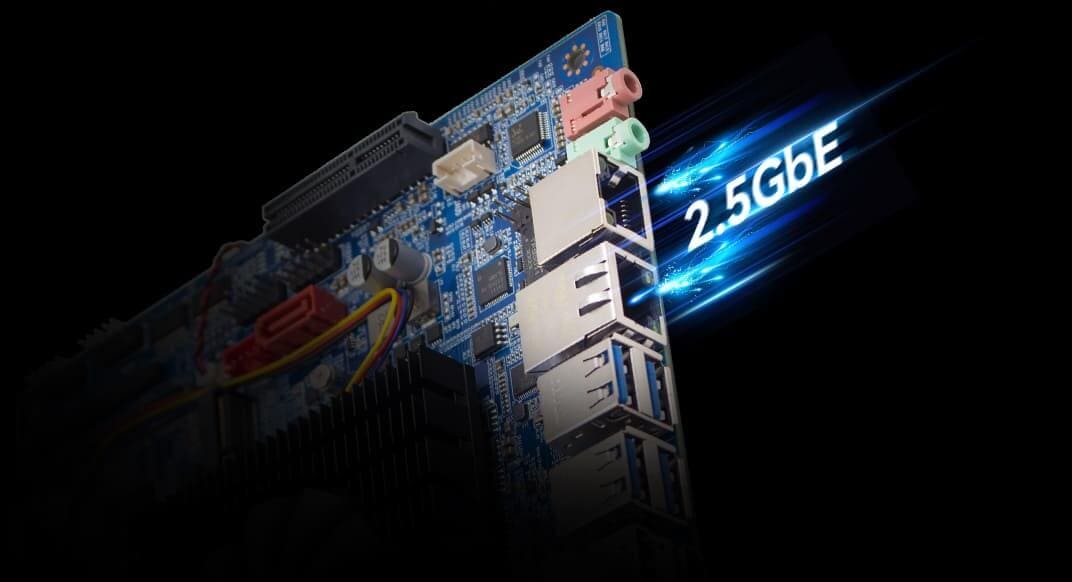 **Whether WiFi 6E is available and what it can do depends on rules and how well it works with 5 GHz WiFi.
The thin mini ITX motherboard includes expansion options such as an M.2 slot for Wi-Fi, a SIM slot to support 4G modules and a PCIe 4X slot for additional expansion cards. This allows for the integration of wireless connectivity and is beneficial in rugged environments where diverse connectivity options are required.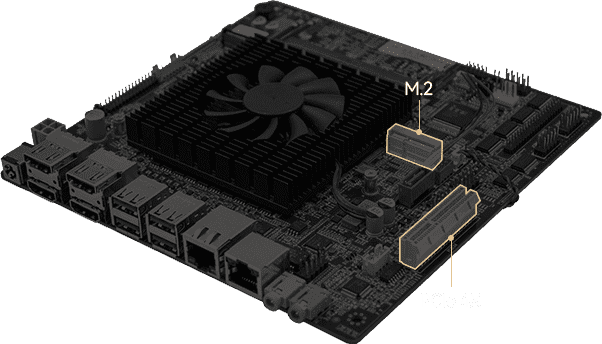 AL10 Mini ITX Motherboard DDR4-3200MHz
The new generation DDR4 brings a noticeable increase in bandwidth, and DDR4-3200 demonstrates an approximate 1.5x performance boost compared to its predecessor, DDR3-2400. thin mini ITX supports up to 64GB of 3200 MT/s DDR4 memory with its two DIMM slots. This enables PDS terminals, server centers, and other high-speed computing applications to benefit from unparalleled quality and reliability in data transmission.
High Capacity & Fast Transmission
Up to 3200MT/s transfer speed
Voltage lowered from 1.3V to 1.2V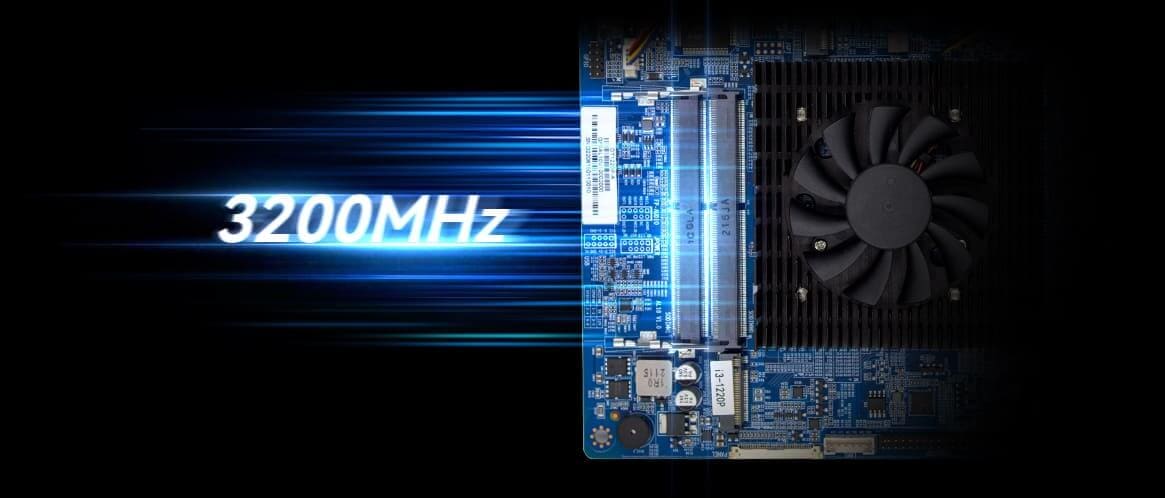 AL-10, the best Mini ITX motherboard for Intel® 12th Gen, supports optional TPM2.0, providing enhanced security for sensitive data and applications. This feature is crucial in IoT deployments, where data protection and security are of paramount importance.
All You Need to Optimize Productivity
ITX-AL10 motherboard offers a range of connectivity options to accommodate different requirements. It features four HDMI®2.0 ports, six COM ports, four USB3.2 ports, four USB2.0 headers, two LAN ports, and support for SATA and M.2 storage. This ensures compatibility with a variety of peripherals and devices.
Compatibility and Support
Compatible with Windows 10/11 64-bit and Linux 64-bit operating systems, ensuring broad compatibility and ease of integration. Additionally, it features a standard 19V DCin power port for a convenient power supply.
The Mini-ITX form factor of the AL-10 motherboard allows for easy integration into space-constrained environments. Its small size makes it suitable for IoT deployments where size and space optimization are essential.
Your Trusted Mini ITX Motherboard
Designed to withstand challenging operating conditions. It features a wide operating temperature range of -20°C to 60°C(-4°F to 140°F)and a storage temperature range of -40°Cto 80°C(40°F-176°F), making it stable for deployment in various environments for years to come.

-20°C to 60°C(-4°F to 140°F)


*Product has High-Definition Multimedia Interface. 
*The terms HDMI, HDMI High-Definition Multimedia Interface, HDMI Trade dress and the HDMI Logos are trademarks or registered trademarks of HDMI Licensing Administrator, Inc.
*All data is for information purposes only and not guaranteed for legal purposes. Information has been carefully checked and is believed to be accurate however, no responsibility is assumed for inaccuracies.  All other trademarks or registered trademarks are the property of their respective owners and are recognized.
AL10 ITX Motherboard(Alder Lake-U/P Series Processor) Specifications
| | | | | |
| --- | --- | --- | --- | --- |
| Processor | Alder Lake P Series | i7-1260P | i5-1240P | i3-1220P |
| | Total Cores/Threads | 12C/16T | 12C/16T | 10C/12T |
| | # of Performance-cores | 4 | 4 | 2 |
| | # of Efficient-cores | 8 | 8 | 8 |
| | P-core Max Turbo Frequency | 4.70 GHz | 4.40 GHz | 4.40 GHz |
| | E-core Max Turbo Frequency | 3.40 GHz | 3.30 GHz | 3.30 GHz |
| | Cache | 18 MB | 12 MB | 12 MB |
| | Processor base Power | 28 W | 28 W | 28 W |
| Processor | Alder Lake U Series | i7-1255U | i5-1235U | i3-1215U |
| | Total Cores/Threads | 10C/12T | 10C/12T | 6C/8T |
| | # of Performance-cores | 2 | 2 | 2 |
| | # of Efficient-cores | 8 | 8 | 4 |
| | P-core Max Turbo Frequency | 4.70 GHz | 4.40 GHz | 4.40 GHz |
| | E-core Max Turbo Frequency | 3.50 GHz | 3.30 GHz | 3.30 GHz |
| | Cache | 12 MB | 12 MB | 10 MB |
| | Processor base Power | 15 W | 15 W | 15 W |
| Memory | BIOS | AMI UEFI BIOS | | |
| | Type | Dual Channel SO-DIMM DDR4 | | |
| | Max.Capacity | 64GB | | |
| Display | GPU | Intel® Iris® Xe Graphics eligible/UHD Graphics depends on CPU | | |
| | Interface | 4x HDMI®2.0+1x LVDS/eDP+1x eDP/DP/HDMI®2.0 | | |
| Ethernet | Controller | 1x Intel i225/226 Data Rate Per Port: 2.5GbE | | |
| | | 1x Intel i219 Data Rate Per Port: 1.0GbE | | |
| | Interface | 2xRJ45 | | |
| | Wake on LAN | Yes | | |
| Audio | Audio codec | Realtek HD | | |
| | Interface | 1xLine-out, 1xMic-in, supports audio header and amplifier header | | |
| Hardware | CPU system temperature, onboard voltage, watchdog, and auto power on | | | |
| Storage | M.2 | 1×M.2 for NVMe 2280 SSD | | |
| | SATA | 1 | | |
| Expansion | M.2 | 1x M.2 for WiFi, support Intel® Integrated Connectivity (CNVi) | | |
| | PCIe4X | 1 | | |
| I/O Interface | LAN | 2 | | |
| | COM | 6xCOM: 6*RS232(default) or 5*RS232+1*RS485(COM1) | | |
| | USB3.2 | 4 | | |
| | USB2.0 | 4*header | | |
| | Audio | 1×Line-out, 1×Mic-in | | |
| | TPM2.0 | Onboard, optional | | |
| Dimension | Board Type | Mini-ITX | | |
| | Size | 170mm×170mm(6.7×6.7 inches) | | |
| Power | Standard Port | 19V DC-in | | |
| | Peripheral Input | For Fan and SATA | | |
| Temperature | Operating Temp. | -20°C ~60°C | | |
| | Storage Temp. | -40°C to 80°C | | |
| Operating System | Win10/11 64 bit, Linux 64 bit | | | |
| *All specifications and photos are subject to change without notice. | | | | |