Maxtang SBC EHL-35 Mini PC Motherboard
It features the Intel®Celeron®J6412 processor with 4 cores 4 threads, 1.5M cache, and 2.60GHz burst frequency. Delivering powerful performance and comes equipped with two 10/100/1000 Mbps Ethernet controllers, M.2 for Wi-Fi, SATA, and mSATA for storage.
The rich I/O interface includes 6xCOM, 8xUSB, GPIO, and CTIA audio jack, all powered by a standard 12V DC-in. This mini PC board is perfect for a range of industrial applications: Digital Signage, Kiosks, Network and Communication Systems, Home Automation and Media Centers, IoT Applications, Robotics, Edge Computing, and Industrial Automation.
The EHL-35 motherboard PC is an energy-efficient solution with a power consumption of only 10 W. Its durable design and affordable price guarantee reliability over the long term, while also boosting productivity and ensuring stable real-time production.
Intel® IoT Solution Alliance



Industrial Grade 24/7 Stable Operation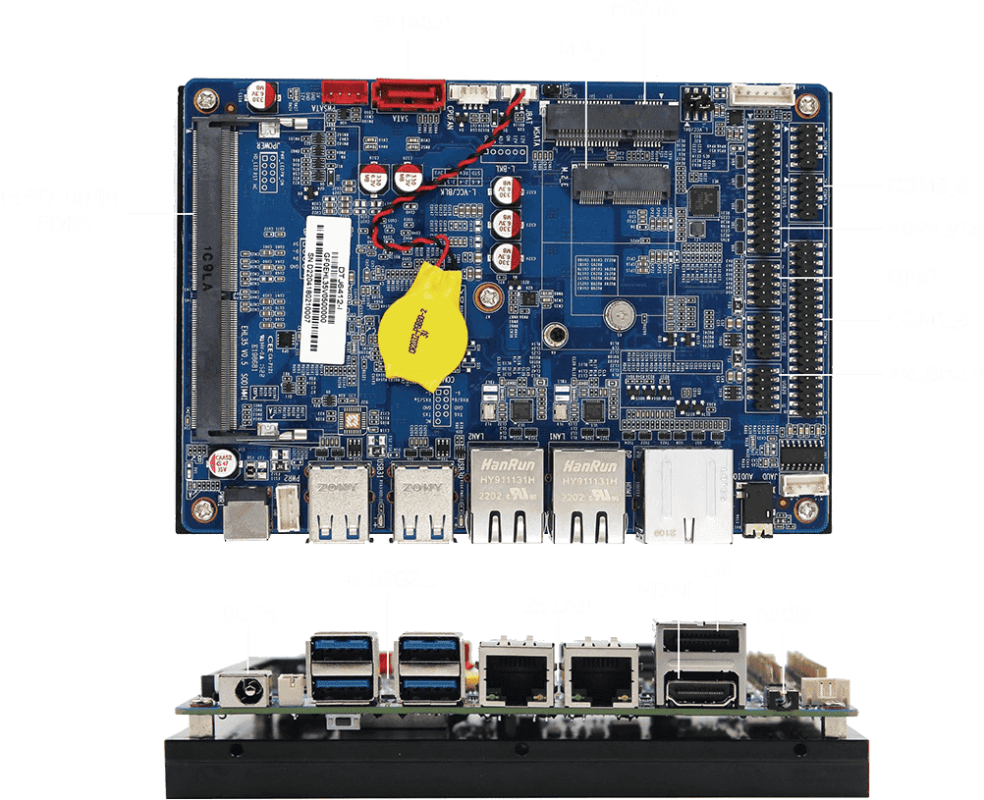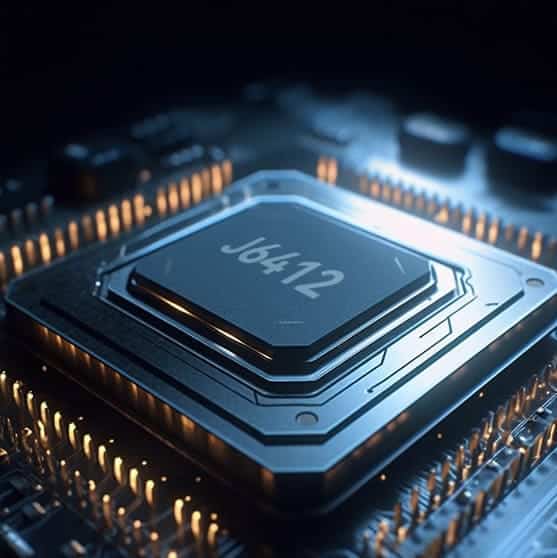 SBC EHL-35 is an exceptional choice for your embedded application needs. It comes with a powerful Intel® Elkhart Lake J6412 processor capable of accommodating up to 32GB DDR4 memory.
It can deliver a high level of CPU and graphics performance at low power consumption. Compared to the previous generation, this motherboard PC improves CPU performance by up to 1.5 times, offers up to 2 times faster graphics, and achieves a 40% increase in CPU benchmark scores. It is sure to meet your requirements for embedded computing.
Stability is an essential requirement in industrial automation applications. Unlike memory soldered onto the board, socket memory offers greater flexibility for expansion, with options ranging from 8G, 16G, to 32G.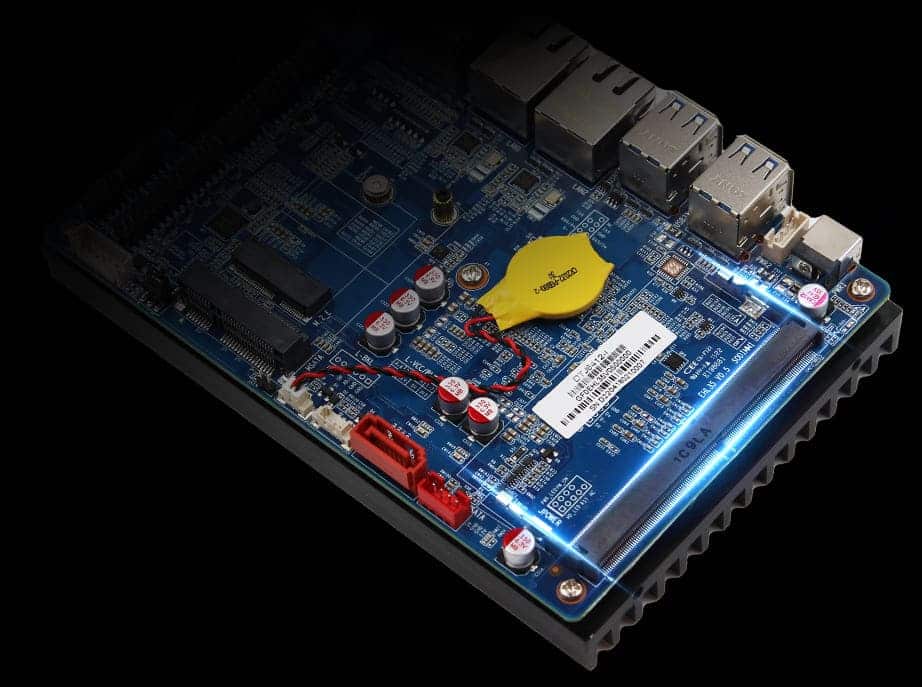 Space-Limited Motherboard
The SBC EHL-35 motherboard measures 146 mm x 102 mm (5.7 x 4.0 inches) and is characterized by its exceptional I/O capacity.Smallest motherboard for PC is engineered to perform optimally in environments with limited space. Its single-layer I/O design is 1.5 times thinner than that of a standard mini ITX board.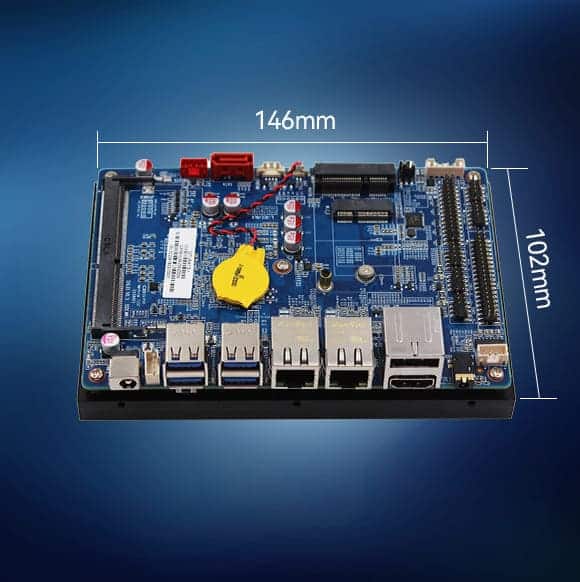 Get Connected with Maxtang's Mini PC Motherboard
Scalability with 4G and Wi-Fi
The wireless solution is achieved through an M.2 slot on our mini PC motherboard. Maxtang SBC EHL-35 motherboard comes with a SIM slot to support 4G modules. The E-key slot is designed to accommodate Wi-Fi/Bluetooth cards, ensuring fast connectivity options.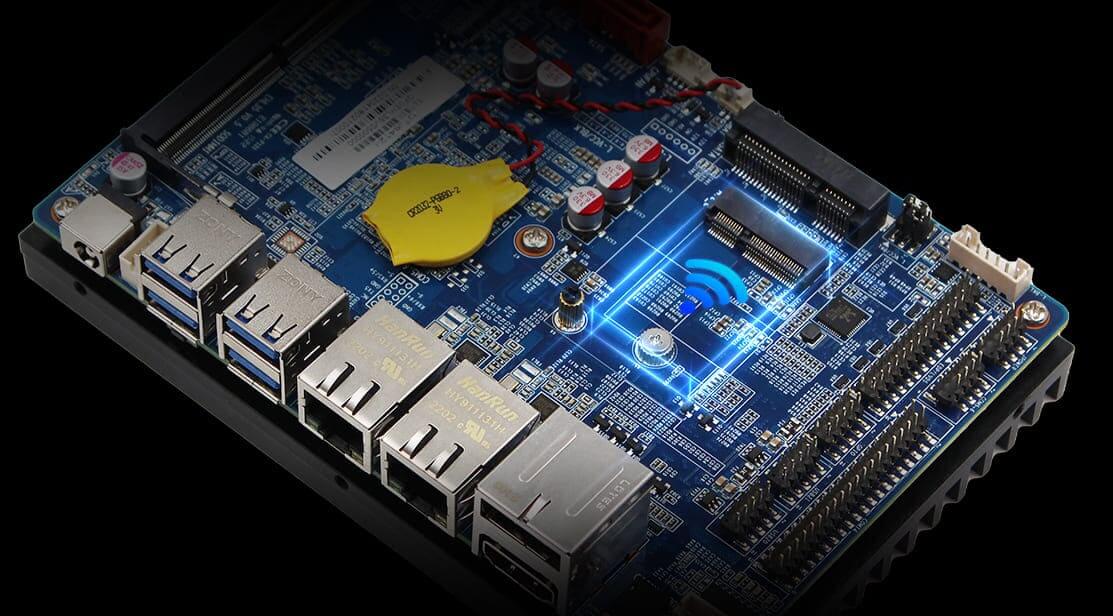 The availability and functionality of WiFi 6E are contingent upon regulatory guidelines and its compatibility with 5 GHz WiFi.
Provides a wide range of I/O interfaces, including COM ports, USB 3.2 and USB 2.0 ports, audio (Line-out and Mic-in), and GPIO pins, enabling seamless connectivity with peripherals and devices.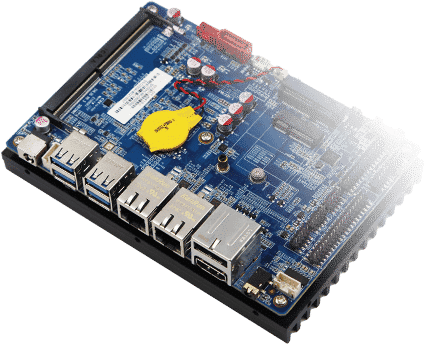 Dual 1.0GbE Data Transmission, Minimize Latency!
Each of the 2xRJ45 LAN ports provides a 1.0GbE connection, allowing for an immediate boost in overall network performance and increased bandwidth for handling large-scale workloads. When connected to a 1.0G network switch, it forms a robust and optimized infrastructure, ideal for deploying a vast number of IoT machines or industrial automation systems, enabling lightning-fast data transfer between devices.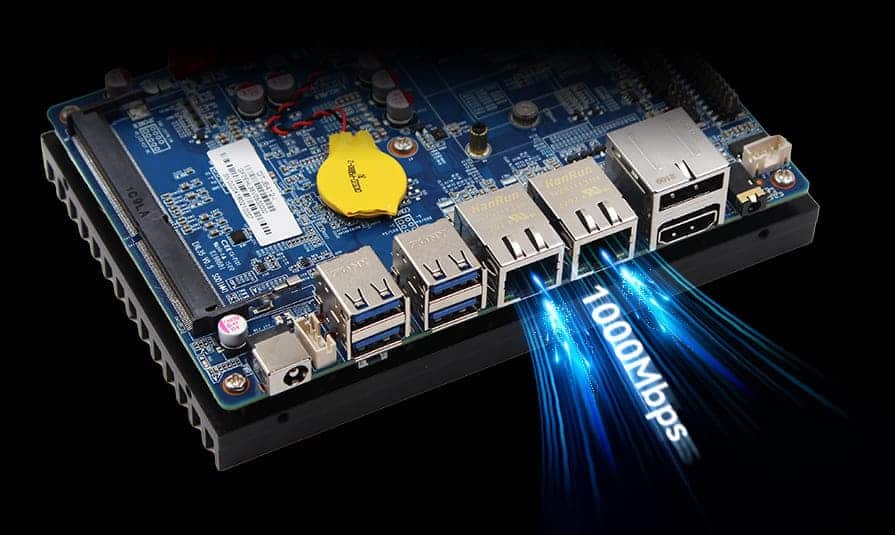 Driving AIoT and 4K Graphics
The integrated Intel® graphics and triple independent display interfaces (HDMI®, DP, eDP/LVDS) provide flexible and seamless connectivity to a variety of display devices, enabling versatile visual output options. The support for resolutions up to 4096×2160@60Hz brings significant benefits to applications that require image resolution and color accuracy in automation devices, AI, and IoT.
Triple display with 4096×2160@60Hz
OS for Everyone: Wide Compatibility
Compatible with both Windows 10/11 64-bit and Linux 64-bit operating systems, providing flexibility and compatibility with different software environments.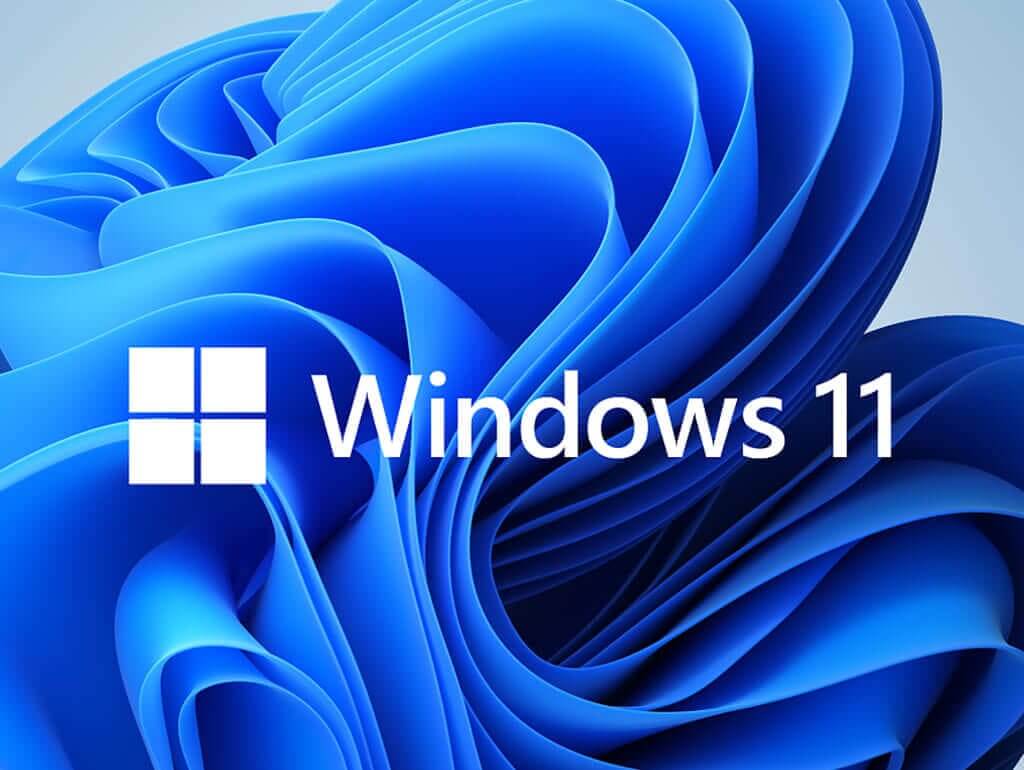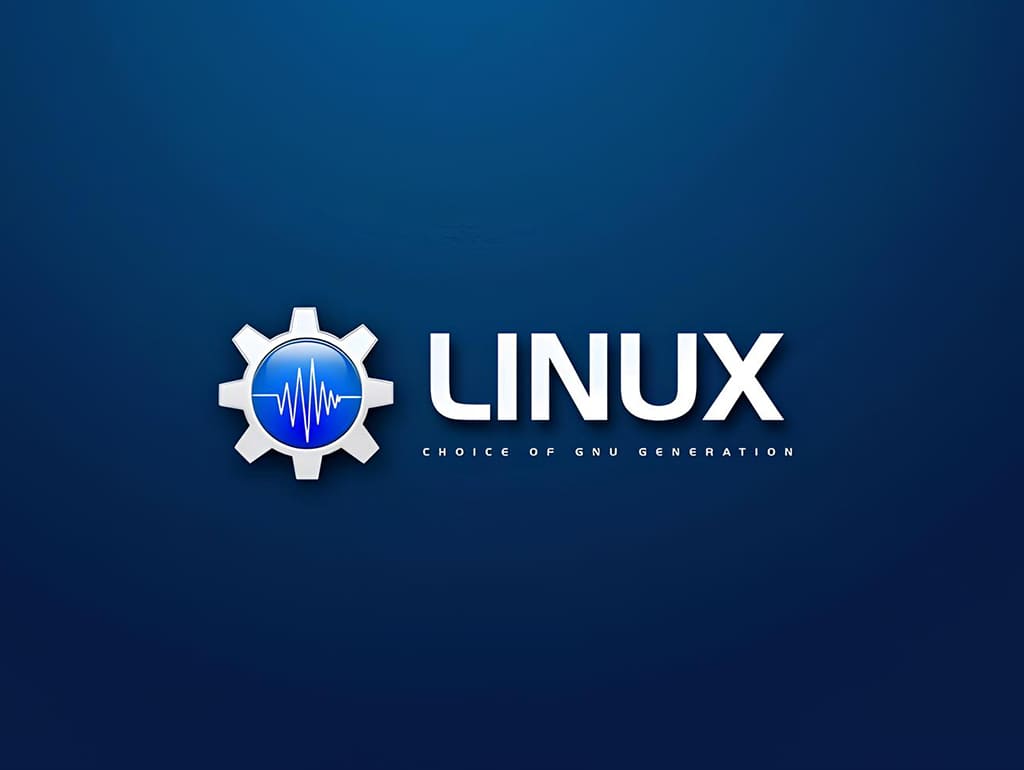 This mini PC motherboard is capable of accommodating up to 32 GB of 1xSO-DIMM DDR4 memory and utilizes Intel® UHD Graphics to display content through HDMI®, DP, and eDP. Additionally, it boasts two 10/100/1000 Mbps Ethernet controllers, M.2 for Wi-Fi, SATA, and mSATA for storage. Its comprehensive input/output interface comprises 6xCOM, 8xUSB, GPIO, and CTIA audio jack with standard 12V DC-in, making it suitable for a wide range of market demands.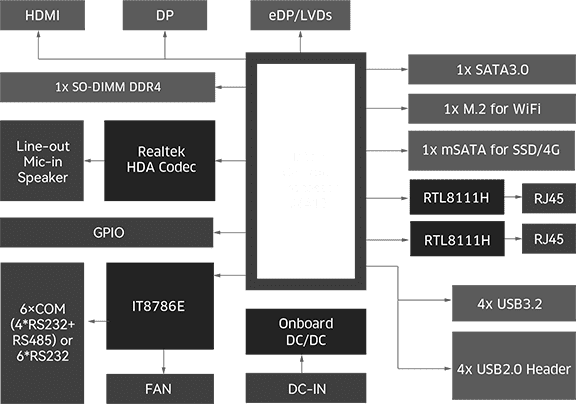 Industrial-Grade Single Board Computer(SBC)
3.5″ disk size SBC motherboard designed to withstand challenging industrial environments. It has a wide operating temperature range -20°C to 60°C (-4°F to 140°F), making it suitable for deployments in harsh conditions. Its rugged design and stable performance ensure reliable operation, minimizing downtime and maintenance costs.

High&Low Temperature Test


*Product has High-Definition Multimedia Interface. 
*The terms HDMI, HDMI High-Definition Multimedia Interface, HDMI Trade dress and the HDMI Logos are trademarks or registered trademarks of HDMI Licensing Administrator, Inc.
*All data is for information purposes only and not guaranteed for legal purposes. Information has been carefully checked and is believed to be accurate however, no responsibility is assumed for inaccuracies.  All other trademarks or registered trademarks are the property of their respective owners and are recognized.
EHL-35 Mini PC Motherboard(Celeron® J6412) Specifications
| | | |
| --- | --- | --- |
| SBC EHL-35 | CPU | Celeron® J6412 |
| | Base Frenquency | 2.0GHz |
| | Max Turbo Frequency | 2.6GHz |
| | Cache | 1.5MB |
| | BIOS | AMI UEFI BIOS |
| Memory | Type | Single Channel SO-DIMM DDR4 |
| | Max Capacity | 32GB |
| Display | GPU | Intel®Integrated Graphics based on CPU |
| | Display via | 1xHDMI® + 1xDP + 1x eDP/LVDs |
| Ethernet | Speed | 10/100/1000 Mbps |
| | Controller | RTL8111H |
| | Interface | 2xRJ45 |
| | Wake on LAN | Yes |
| Audio | Audio codec | Realtek HD |
| | Interface | 1xCTIA Line-out + Mic-in in one, supports power amplifier |
| Hardware | CPU system temperature, on-board DC-in voltage, watchdog, auto power on | |
| Storage | mSATA | 1x mSATA for SSD/4G Module |
| | SATA3.0 | 1x SATA 2.5-inch HDD |
| Expansion | M.2 | 1x M.2 Key_E for Wi-Fi |
| I/O Interface | LAN | 2 |
| | COM | 4*RS232+2*RS485(COM5_6) or 6*RS232 |
| | USB3.2 | 4 |
| | USB2.0 | 4*header |
| | Audio | 1 (Line-out+Mic-in) |
| | GPIO | 8 |
| Dimension | Board Type | 3.5" Disk Size SBC |
| | Size | 146 mm x 102mm(5.7 x 4.0 inches) |
| Power | Standard Port | 12V DC-in |
| | Peripheral Input | For Fan and SATA |
| | LED Indicator | Power Indicator |
| Temperature | Operating Temp. | -20°C to 60°C |
| | Storage Temp. | -40°C to 80°C |
| Operating System | Win10/11 64bit, Linux 64bit | |
| *All specifications and photos are subject to change without notice. | | |