All-in-one mini computer meets a variety of needs in life.
Best Compact mini PC for an enhanced computing experience. Packed with powerful features, Maxtang mini PCs is designed to cater to your everyday needs. Say goodbye to bulky desktop computers and welcome this sleek and space-saving solution into your life.
i3-5005U, i5-4200U Or i7-5500U
Intel® Haswell/Broadwell CPUs
1x M.2 for 2280 SSD/SATA3.0
Intel® HD Graphics
Support 4K Dual Screen Display
10/100/1000Mbps Speed
RTL8111H Controller
Easy Setup and Ready to GO
The MTN-BW50 offers a hassle-free setup experience. With no complex installation processes or technical expertise required, simply connect it to your display, plug in the power, and you're ready to go. Enjoy the convenience of effortless configuration with this user-friendly mini PC.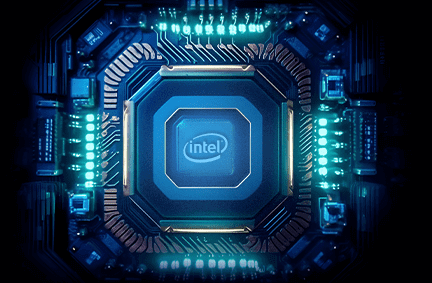 i3-5005U: 2C/4T,3MB Cache
2.60 GHz Max Burst Frequency
3.00 GHz Max Burst Frequency
Intel® Haswell/Broadwell Processors
With options such as the i3-5005U, i5-4200U, and i7-5500U, the Intel® Haswell/Broadwell processors,Maxtang MTN-BW50 delivers reliable performance for demanding tasks such as multimedia editing, light gaming, and multitasking.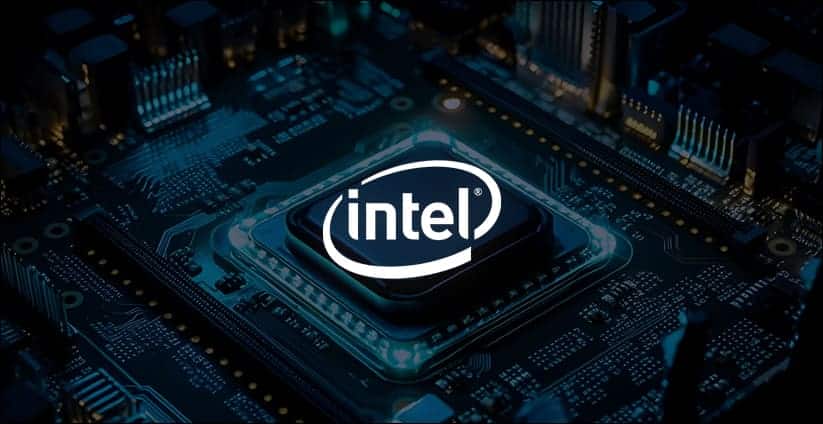 Versatile Mounting Options
The compact size mini PC of the MTN-BW50 allows for flexible mounting options. You can place it on your desk, mount it behind your monitor, or even attach it to the back of your TV for a clutter-free setup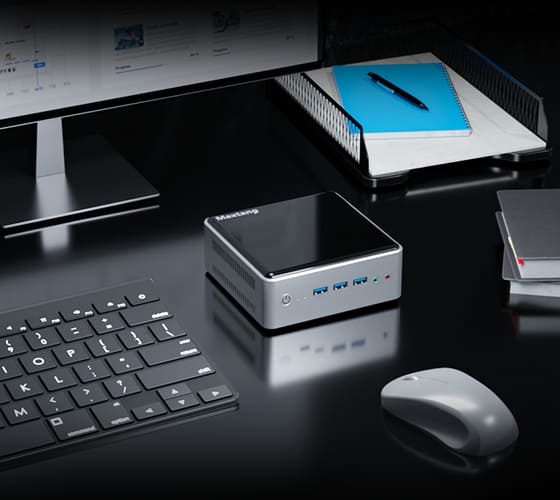 Fast and Expandable Storage
Best buy mini PC MTN-BW50 boasts high-speed and expandable storage options. With an M.2 slot, experience fast data transfer rates and efficient performance for your files and applications. Additionally, the SATA3.0 interface allows for easy expansion, providing flexibility and ample space to store your growing collection of data.
Easy-to-use with Compact Design
Portable size and lightweight nature make it the ideal companion for Home Office, Business and Travel.
Mini PC Intel® i5 or i7 showcases a compact space-saving measuring 130Lx128Wx52Hmm (5.1x5x2-inch)design, making it a perfect fit for any workspace. Its small footprint saves valuable desk space without compromising on performance. Whether placed on your desk or mounted behind a monitor, the MTN-BW50 blends seamlessly with your setup.
Versatile Operating System Support
Offers versatile operating system compatibility, supporting Windows 7/8/10 (64-bit) and Linux (64-bit). Whether you prefer the familiarity of Windows or the flexibility of Linux, Maxtang best mini PC provides a seamless experience. Enjoy the freedom to choose and personalize your operating system to suit your specific needs
More Interfaces
More Convenience
Offers a variety of I/O ports to accommodate your peripheral devices. It includes three USB 3.2 and two USB 2.0 ports for easy data transfer, one LAN port for internet connectivity, and audio ports for sound needs.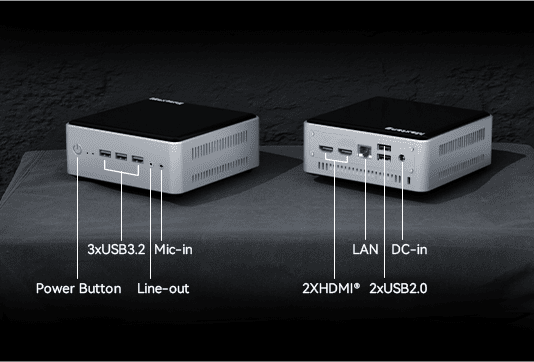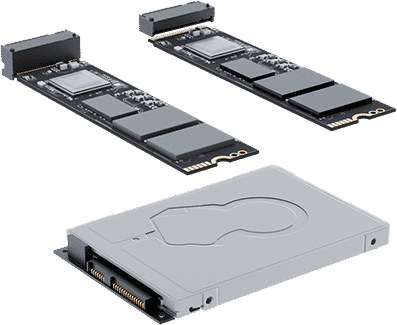 Store your files, documents, and multimedia with ease. The small PC features an M.2 slot for a fast SSD storage device and a SATA3.0 interface for additional storage options.
Built with energy efficiency in mind, helping you reduce your carbon footprint and save on electricity costs.
The mini PC Windows 10 operates on a 12V DC power supply, ensuring stable and efficient performance.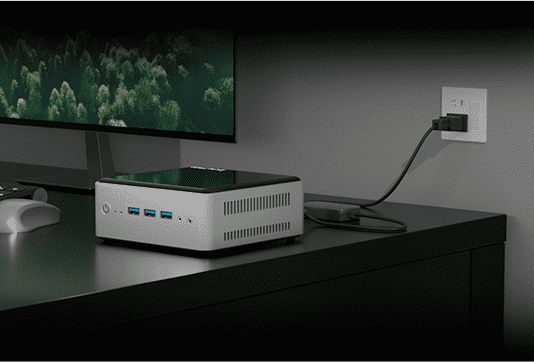 Efficient Networking with a Blazing 1000Mbps LAN
Faster connection speeds, reliable performance, and powerful efficiency combine in this MTN-BW50 all-in-one mini computer.With the extra M.2 slot, you can easily enhance connectivity by adding Wi-Fi support, ensuring effortless wireless easy-access. The portable mini PC also supports WiFi6, providing versatility in wireless connections. Additionally, it offers Bluetooth 5.2 and RJ-45 1000M Ethernet options to cater to all your diverse data transmission needs.
Experience stunning visuals and vibrant colors with Intel® HD Graphics. Connect your display through the two HDMI® ports for an immersive viewing experience.
Thanks to its active cooling system, the MTN-BW50 operates quietly, ensuring a peaceful and distraction-free environment
Consistent Performance in Every Setting
Designed for durability and resilience, this silent mini PC operates flawlessly within a wide temperature range of -20°C to 60°C(Storage Temp. -20°C to 80°C), ensuring reliable performance in diverse environments. Enjoy consistent computing performance, from home to office, without any concerns about temperature limitations.
High&Low Temperature Test
-20°C to 60°C(-4°F to 140°F)

Corrosion Test

Altitude Test

Drop Text

Humidity Test

Vibration Test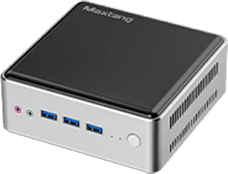 Maxtang MTN-BW50

Wall-mounted Bracket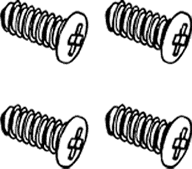 Maxtang MTN-BW50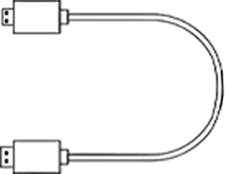 HDMI® Cable
Power Adapter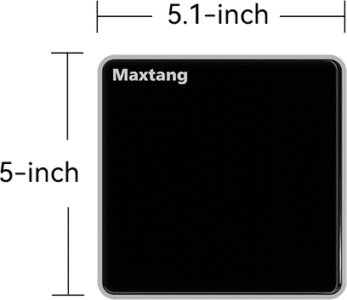 1 x Maxtang MiniPC MTN-BW50
1 x Power Adapter
1 X HDMI® Cable
1 x Wall-mounted Bracket
1 x Thank You Card
*Product has High-Definition Multimedia Interface. 
*The terms HDMI, HDMI High-Definition Multimedia Interface, HDMI Trade dress and the HDMI Logos are trademarks or registered trademarks of HDMI Licensing Administrator, Inc.
*All data is for information purposes only and not guaranteed for legal purposes. Information has been carefully checked and is believed to be accurate however, no responsibility is assumed for inaccuracies.  All other trademarks or registered trademarks are the property of their respective owners and are recognized.
MTN-BW50 Specifications
| | | | | |
| --- | --- | --- | --- | --- |
| MTN-BW50 | CPU | i3-5005U | i5-4200U | i7-5500U |
| | Core Frequency | 2.00 GHz | 1.60 GHz | 2.40 GHz |
| | Max Turbo Frequency | / GHz | 2.60 GHz | 3.00 GHz |
| | Cache | 3 MB | 3 MB | 4 MB |
| | BIOS | AMI UEFI BIOS | | |
| I/O Interface | HDMI® | 2 | | |
| | USB2.0 | 2 | | |
| | USB3.2 | 3 | | |
| | LAN | 1 | | |
| | Line-out | 1 | | |
| | Mic-in | 1 | | |
| | DC-in | 1 | | |
| Memory | Type | Dual Channel SO-DIMM DDR3L | | |
| | Max Capacity | 16GB | | |
| Display | GPU | Intel® HD Graphics based on CPU | | |
| | Display Port | 2xHDMI® | | |
| Ethernet | Speed | 10/100/1000 Mbps | | |
| | Controller | RTL8111H | | |
| | Interface | RJ-45 | | |
| Audio | Audio Codec | Realtek HD | | |
| | Interface | 1xLine-out+1xMic-in,Audio header, Amplifier header | | |
| Hardware | CPU temperature, system temperature, onboard voltage, watchdog | | | |
| Storage | M.2 | 1x M.2 for 2280 SSD | | |
| | SATA3.0 | 1x SATA3.0 (2.5inches) | | |
| Expansion | M.2 | 1x M.2 for Wi-Fi | | |
| Power | Standard Port | 12V DC-in | | |
| Dimension | Size | 130Lmmx128Wmmx52Hmm (L x W x H) | | |
| Temperature | Operating Temp. | -20°C to 60°C | | |
| | Storage Temp. | -20°C to 80°C | | |
| Cooling | Cooling | Active | | |
| Operating System | Operating System | Win 7/8/10 64bit, Linux 64bit | | |
| *All specifications and photos are subject to change without notice. | | | | |
| *The terms HDMI, HDMI High-Definition Multimedia Interface, HDMI Trade dress and the HDMI Logos are trademarks or registered trademarks of HDMI Licensing Administrator, Inc. | | | | |