FP610 Bes Low Profile ITX Motherboard
Maxtang mini-ITX embedded motherboard is based on the AMD® Ryzen™ mobile and embedded series processor, built on the groundbreaking "Zen 2" x86 and "Zen 3" core architecture with innovative 7nm process technology and optimized high performance Radeon™ graphics in an SoC design.
Our best mini ITX motherboard provides unprecedented performance levels, significant design enhancements, and incredible power efficiency for embedded solutions. The board supports 2xSO-DIMM DDR4 up to 64GB, 4xDP1.4 for four 4K independent displays, 2xM.2 for storage, additional M.2 for Wi-Fi, and optional TPM for added security.
Rich I/O interface includes 6xCOM, 8xUSB, LPT, GPIO, Line-out, and Mic-in, along with its slim hardware architecture and high-efficiency edge computing capabilities, the FP610 is well-suited for space-constrained environments like thin electronic gaming machines, PDS terminals, interactive digital signage, and medical imaging.

Embedded Motherboard Overview






2280/2242 SATA SSD or 4G Module
FP610 micro ITX motherboard offers unparalleled performance with AMD Ryzen™Mobile and Embedded series processors based on the "Zen 2" x86 and "Zen 3" core architectures. It is highly suitable for high-speed communication front-end micro servers and high-resolution display machines
Bring Your Vision to Life with 4-displays
The FP610 features four DP1.4 ports, allowing you to connect four independent 4K displays (4096×2160@60Hz). This breakthrough in high-definition content transmission provides over four times the pixel density of standard HD, delivering stunning visuals.
With optional DP1, LVDS, and eDP interfaces, Maxtang mainboard mini ITX is an ideal choice for applications in industrial automation, electronic gaming machines, or PDS terminals that require high graphics performance.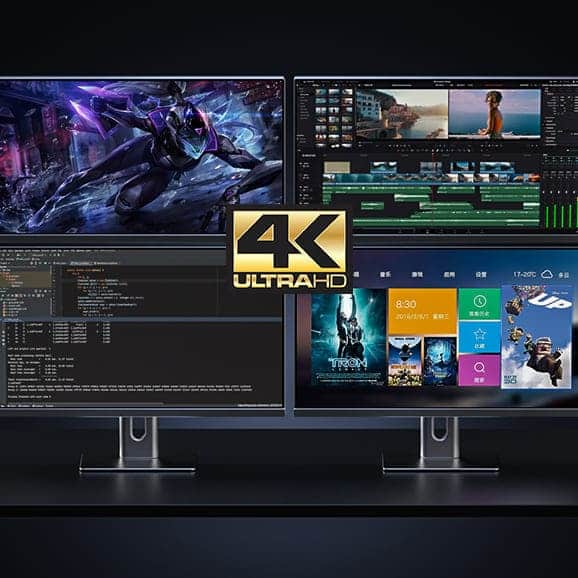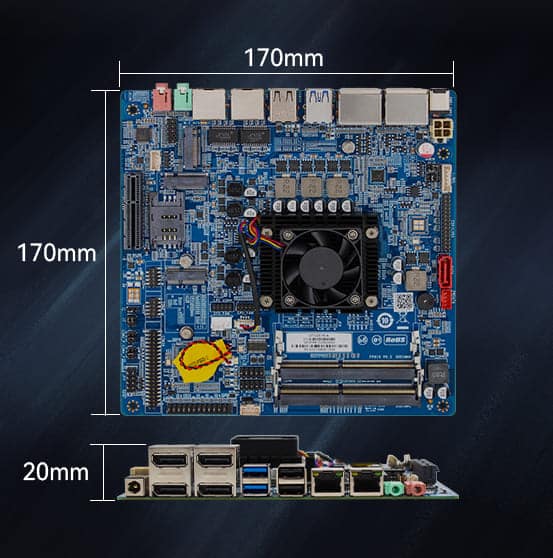 Ultra-thin Design, Perfect for Space-Limited Applications
The FP610 is a form factor 170mmx170mm(6.7×6.7-inch) motherboard with a height of only 20mm, yet it boasts the maximum I/O capacity. It is specifically designed to excel in space-constrained environments. With its single-layer I/O design, 1.5X as thin as a standard mini ITX board
Wi-Fi and Bluetooth at Your Fingertips
Our mini ITX motherboard WiFi is equipped with an M.2 2230 E Key slot supporting 1xPCIE4x and USB 2.0/USB3.0 signals, the FP610 enables the adoption of the latest Wi-Fi 6E technology. Wi-Fi 6E enhances low latency and supports service levels equivalent to 5G networks, ensuring seamless connectivity and improved performance.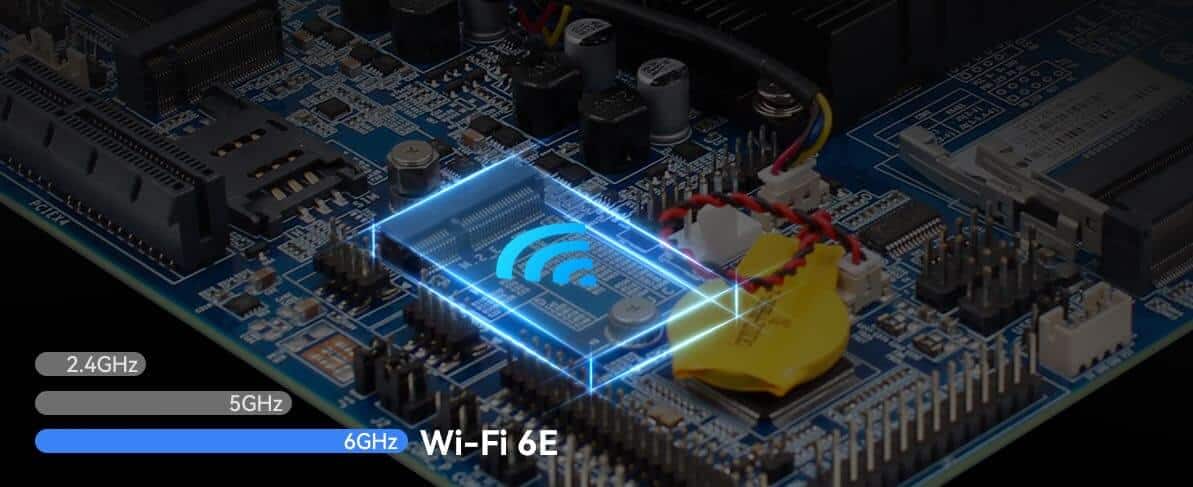 *Whether WiFi 6E is available and what it can do depends on rules and how well it works with 5 GHz WiFi.
Minimal Latency
Dual 1000Mbps Networking
2×1.0 GbE ports on board, supporting a wide range of connection speeds from 10Mbps to 1000Mbps on the LAN slot. You can harness the full capabilities of high-performance network solutions without incurring substantial costs for cable upgrades. Enjoy seamless connectivity and maximize network performance with the FP610's cost-effective and versatile 1.0 GbE speed.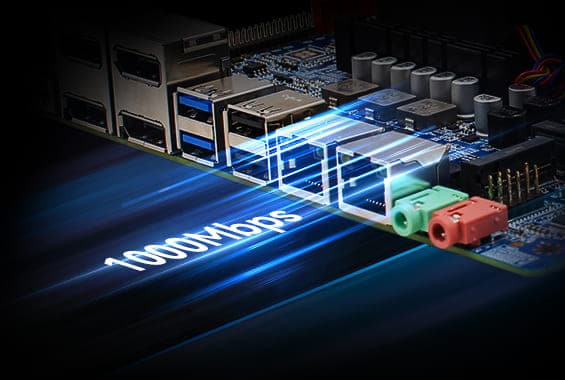 Dual Channel DDR4-3200MT/s Transfer Speed
The latest iteration of DDR technology presents a discernible enhancement in bandwidth, with DDR4-3200 exhibiting an estimated 1.5 times performance improvement in comparison to its antecedent, DDR3-2400. The thin mini ITX configuration accommodates a maximum of 64GB of 3200 MT/s DDR4 memory through its two DIMM slots. This feature empowers PDS terminals, server centers, and other high-speed computing applications to avail themselves of unparalleled standards of quality and dependability in data transmission.
High Capacity & Fast Transmission
Up to 64GB capacity memory
Voltage lowered from 1.3V to 1.2V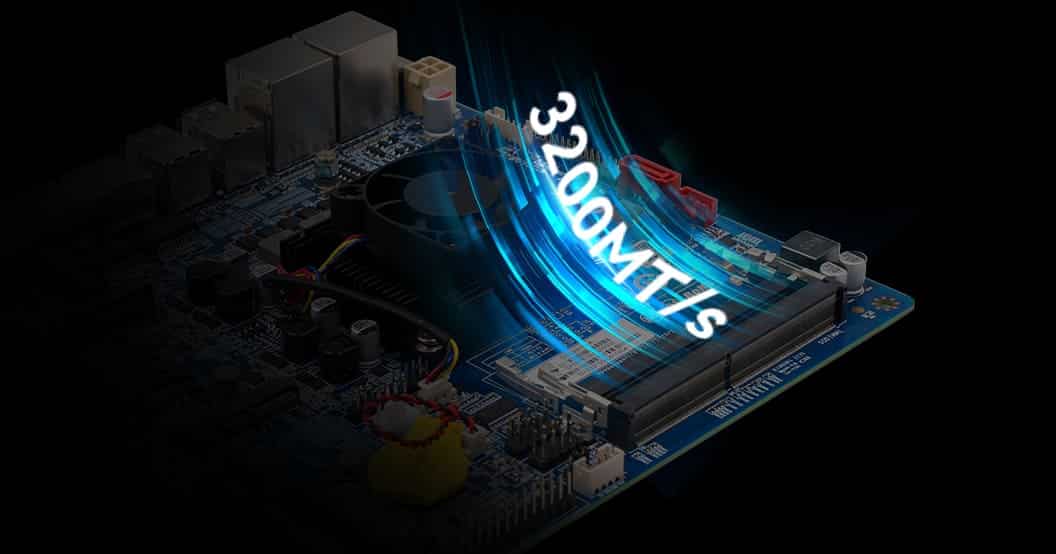 Optional TPM2.0 to Secure Your System
Designed in the Mini ITX form factor and supporting 2xSO-DIMM ECC DDR4 up to 64GB, the FP610 best budget mini ITX motherboard is an excellent choice for memory-intensive applications. It offers the added advantage of optional TPM2.0 for enhanced security, guaranteeing data protection and integrity.
Making Edge Computing and E-Gaming Devices Truly Viable in Any Scenario
The FP610 Ryzen embedded motherboard is a highly competitive solution that is well-suited for a wide range of scenarios, owing to its powerful mobile processing performance, slim hardware platform, and impressive graphics capabilities. Its comprehensive features, combined with its stability and reliability, render it an ideal platform for the development of edge computing and electronic gaming devices.
Connect without Compromise
Balancing Connectivity and Integrity
The FP610 offers a rich selection of I/O interfaces, including 6xCOM, 8x USB, LPT, GPIO, Line-out, and Mic-in. This diverse range of interfaces caters to various applications and provides you flexible connectivity options.
4096×2160@60Hz for 4-display
Software Environments: OS Options
The software in question is designed to be compatible with two distinct operating systems, namely Windows 10/11 64bit and Linux 64bit. This feature offers a high degree of flexibility and adaptability, allowing the software to function seamlessly within diverse software environments.
AMD® Ryzen™ Mobile or Embedded Series Processor with Radeonm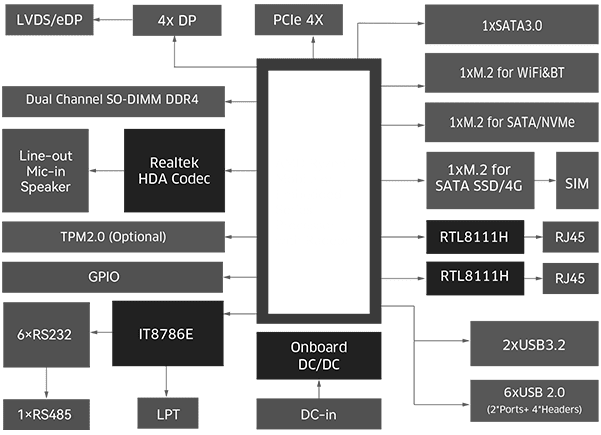 With years of brand ODM experience, Maxtang continuously enhances the R&D design, and quality-production of embedded motherboard WiFi and Mini PCs, striving to achieve customer satisfaction.
20°C to 60°C.(-4°F to 140°F) Aging Test



FP-610 ITX Motherboard Specifications
| | | | | | |
| --- | --- | --- | --- | --- | --- |
| ITX-FP610 | CPU | V2516 | 5600H | 5800H | |
| | Cores/Threads | 6C/12T | 6C/12T | 8C/16T | |
| | Max Boost Frequency | 3.95 GHz | 4.2 GHz | 4.4 GHz | |
| | Base Frequency | 2.1 GHz | 3.3 GHz | 3.2 GHz | |
| | L2 / L3 Cache | 3MB/8MB | 3MB/16MB | 4MB/16MB | |
| | BIOS | AMI SPI BIOS | | | |
| Memory | Type | Dual Channel SO-DIMM DDR4 | | | |
| | Max Capacity | 64GB | | | |
| Display | GPU | AMD Radeon™ Graphics | | | |
| | Display Port | Up to 4 x DP1.4 (DP1/LVDS/eDP Optional) | | | |
| | Max Resolution | Resolution up to 4096×2160 for single display | | | |
| Ethernet | Speed | 10/100/1000 Mbps | | | |
| | Controller | RTL8111H | | | |
| | Interface | 2xRJ 45 | | | |
| Audio | Audio codec | Realtek HD (1xLine-out, 1xMic-in) | | | |
| | Interface | Line-out, Mic-in, support audio header, amplifier header | | | |
| Hardware | CPU system temperature, onboard voltage, watchdog | | | | |
| Wireless connectivity | M.2 | 1xM.2_E for Wi-Fi and Bluetooth | | | |
| Storage | M.2 | 1xM.2 B-key for 2280/2242 SATA SSD or 4G Module | | | |
| | | 1xM.2 M-key for 2280 NVMe/SATA SSD | | | |
| | SATA3.0 | 1xSATA3.0 | | | |
| Expansion | PCIe 4X | 1 | | | |
| I/O Interface | LAN | 2 | | | |
| | COM | 6×RS232 (COM2 can be set as RS485 by jumper) | | | |
| | USB3.2 | 2 | | | |
| | USB2.0 | 6 (2*Port + 4*header) | | | |
| | Audio | 1 x Line-out + 1 x Mic-in | | | |
| | GPIO | 8 (one group) | | | |
| | LPT | 1 | | | |
| | TPM2.0 | Onboard, Optional | | | |
| Dimension | Board Type | Mini ITX | | | |
| | Size | 170 mm x 170 mm | | | |
| Power | Standard Port | 19V DC-in | | | |
| | Peripheral Input | For Fan and SATA | | | |
| Temperature | Operating Temp. | -20°C ~60°C | | | |
| | Storage Temp. | -20°C ~80°C | | | |
| Operating System | Windows 10/11 64bit, Linux 64bit | | | | |
| *All specifications and photos are subject to change without notice. | | | | | |