Go Beyond Your Wildest Visions
Over 90% of customers think MTN-AL50 mini PC is the best buy because it works well and is flexible without taking up too much space. It has 12th Gen Intel® Core i5 or i7 processors and is very small, only taking up 3% of a regular tower case. This little system is powerful and saves space.
Easy to Work with Power-packed Mini Computer
12 cores,16 Threads, 12MB Cache
12 cores,16 Threads, 18MB Cache
Intel® Iris Xe Graphics Card (80UE)
Dual Channel SO-DIMM DDR5-4800Mhz
1×2.5"SATA HDD (Optional)
10/100/1000/2500Mbps Speed
2xRJ45 Interfaces
PCIe4.0 4X Signal
128GB/256G/512GB SSD
Smart Active Cooling Design
Compact-size and Powerful
Loaded 12th Gen Intel Core i5 or i7 processors, our system's hybrid architecture combines high-performance cores and energy-efficient cores, delivering a smooth gaming experience and maximizing your productivity.
Dual Channel DDR5-4800MHz
A Rapid Leap in Data Performance
With a maximum frequency of 4800Mhz and doubled bandwidth, the new generation of Intel® mini PC supports up to 64GB memory, enables a smoother workflow and delivers the pleasure of higher performance in high-end PCs, design rendering, data center, AV entertainment, and more.
Super Speed PLCe 4.0 GEN 4
Boost your work performance to buy the latest PLCe 4.0 M.2 high-speed SSD, which offers twice the bandwidth of PLCe 3.0 SSDs. MTN-AL50 mini computer features an M.2 NVMe SSD PCIe4.0 Type 2280 with a fast 3500 MB/s read speed, as well as a user-friendly SATA3.0 interface.
Cost-Advantages Expansion
Expandable up to 64GB RAM and supporting storage options of a 2TB SSD and a 2.5-inch SATA HDD, this core i5 or i7 mini computer provide larger storage space and faster program loading times for your workloads.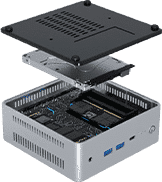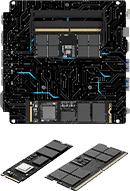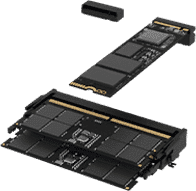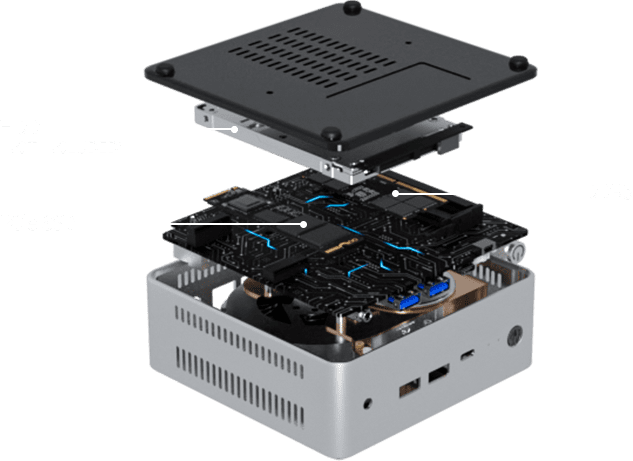 Dive into the world of 4K Ultra HD displays
Connect three monitors simultaneously with our triple screen display using two HDMI®2.0 and type-c DP1.4 ports. Experience immersive independent displays with 4096X2304@60Hz resolution and smooth refresh rates. Seamlessly manage tasks across multiple windows with ease.Buy a mini PC for all your needs.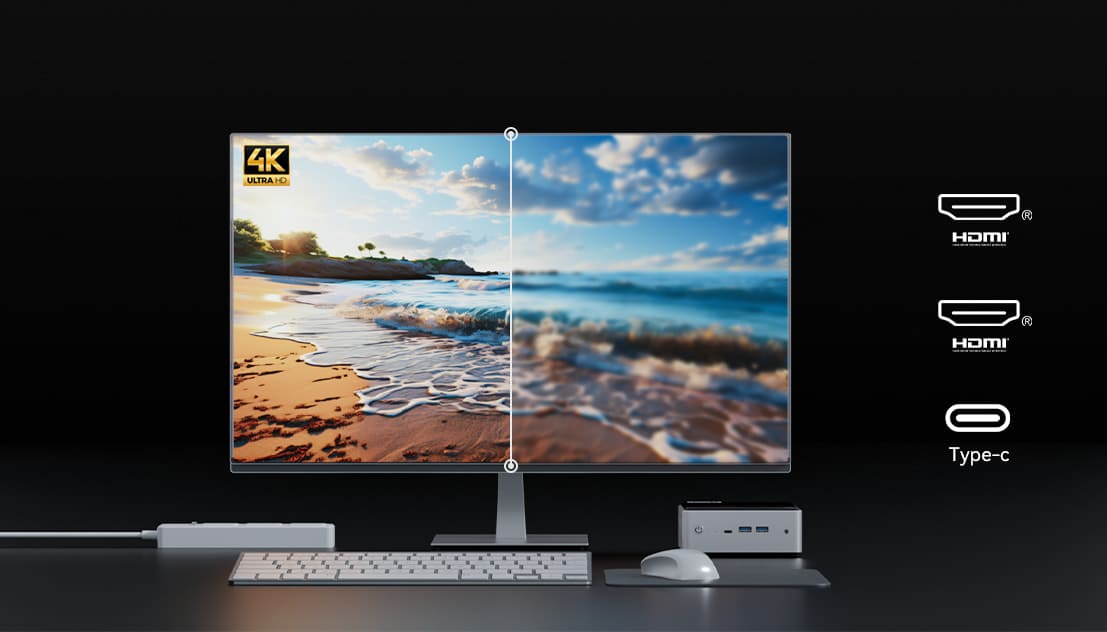 Lag-free Network: Experience the Difference!
Dual High Speed LANs up to 2500Mb/s
Experience ultra-high-speed network performance with dual Intel® 2.5G LAN ports, delivering speeds 2.5 times faster than standard Gigabit Ethernet ports! Enjoy a stable and reliable connection with just a 20ms live streaming delay, bringing you seamless online streaming within seconds.Buy a mini PC for all your tasks.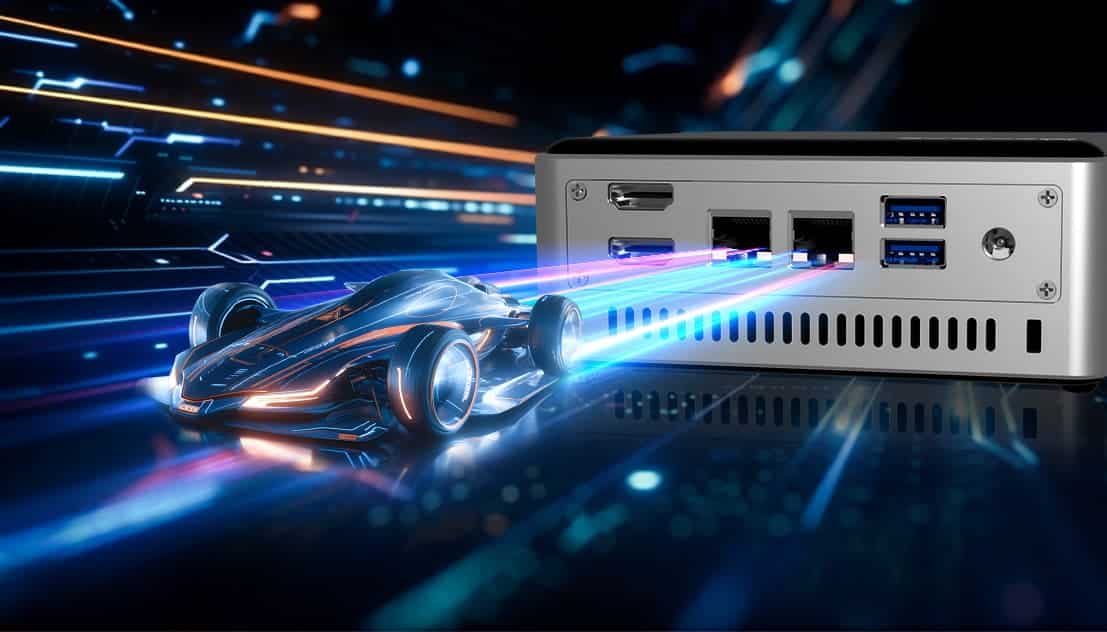 Stay Cool, Stay Efficient
Powerful cooling module MTN-AL50 with ultra-thin silent fan and multi-level heat dissipation fins. Noise levels range from 30-32dB under continuous heavy load, keeping CPU temperature at 50℃-68℃(122℉to 154℉). Enjoy a strong, efficient, and low-noise operation.Buy a mini computer for any task you need to do.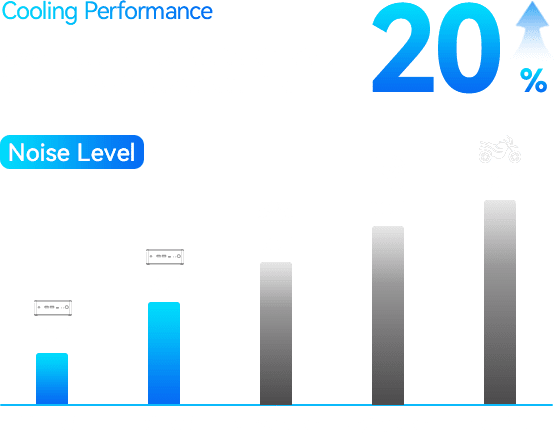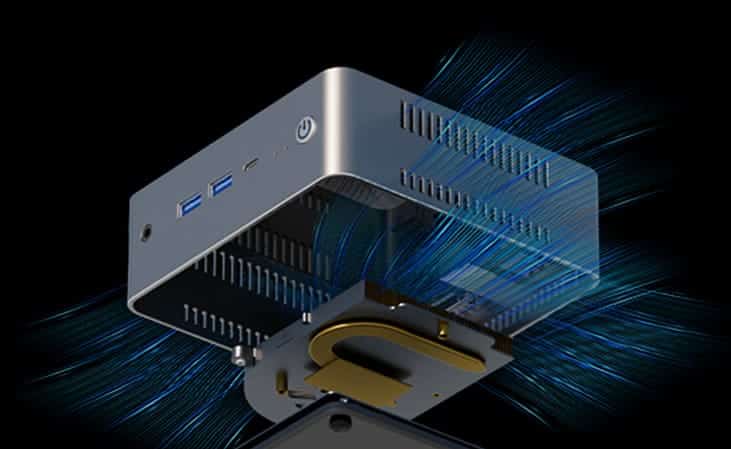 Compactness thin at just 2 inches, measuring 5x5x2 inches, allows you to take it with you wherever you go.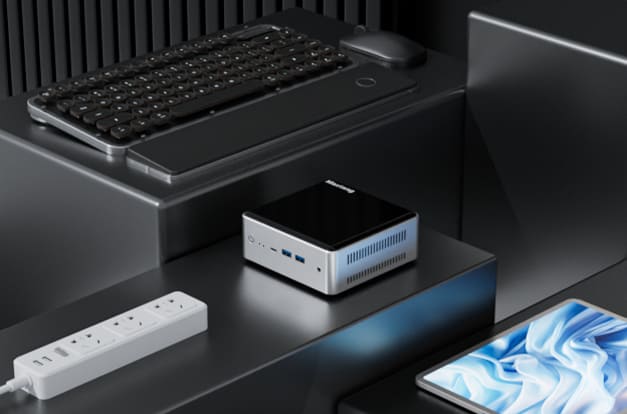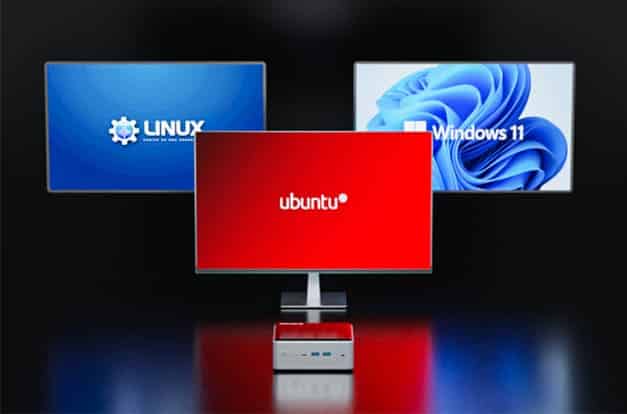 Multi-OS Compatible Mini PC
Pre-installed with Windows 11 and compatible with most industrial configuration software. Supports ESXI, LEDE, Ubuntu, and Linux.
Get All the I/O Interfaces You Need
MTN-AL50 is a versatile mini computer designed for digital signage, workstations, and vending machines. Features a range of interfaces:2x USB 3.2, 2x USB 2.0, 1x USB-C, 2x LAN (2.5 GbE) ports, 2xHDMI®, Line-out, Mic-in, and more. Providing easy connectivity to displays, audios, VR equipment, and data centers.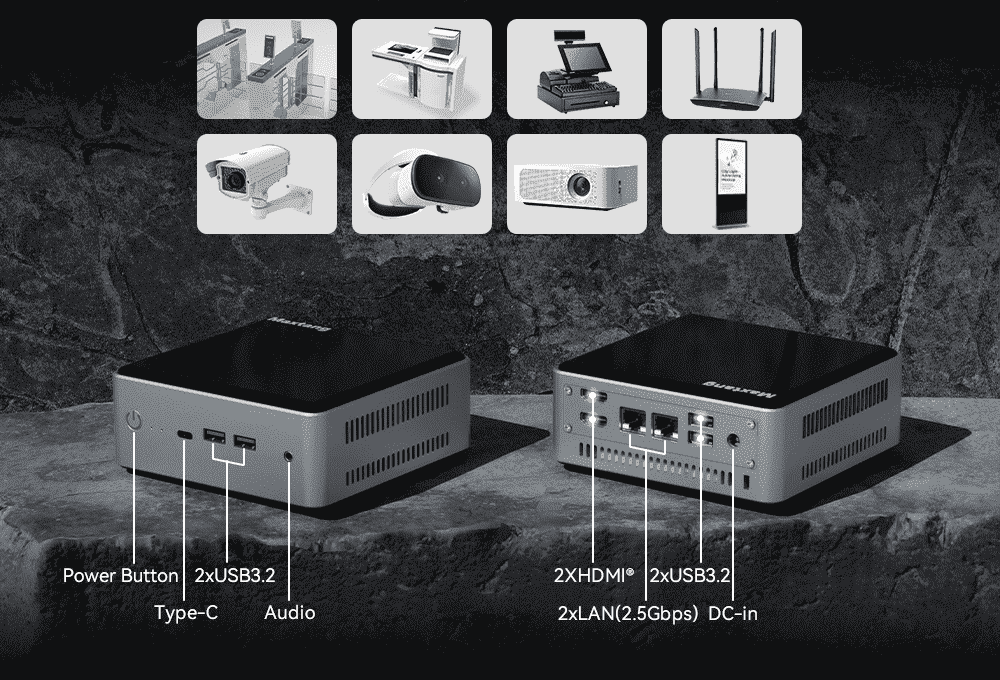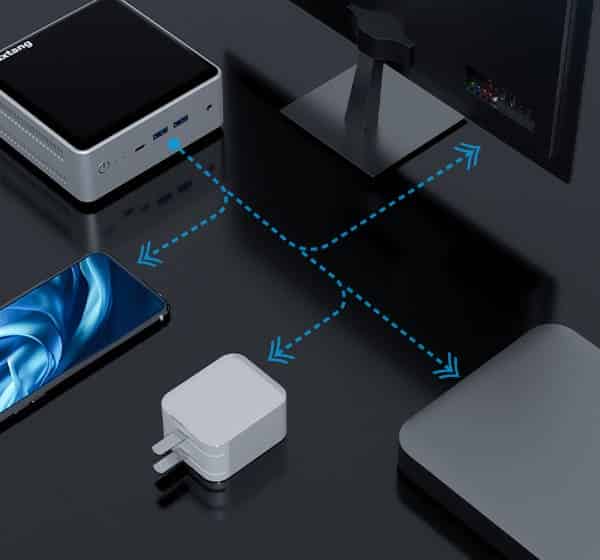 Functional Easy with Type-c
You can experience fast transfer speeds of 10GB/s via USB 3.2 GEN2 while enjoying a stunning 4K@60Hz HD display with DP1.4. At the same time, TYPE-C direct connection to a power adapter 100W 20V 5A, mobile device charging 5V2A.
Supercharge Your Wi-Fi Speed!
Smooth HD video streaming and immersive design rendering made possible with Intel® Wi-Fi 6's dual-band coverage on 2.4GHz and 5GHz frequencies, even with multiple users connected simultaneously.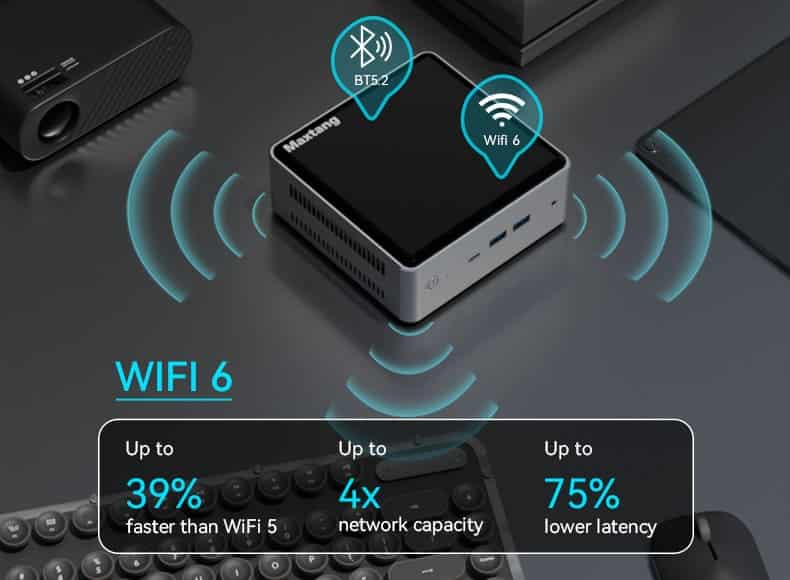 Reliability in Every Test
MTN-AL50 designed for harsh environments with features like moisture and dust resistance, as well as corrosion protection, has successfully passed rigorous professional testing processes such as aging, high and low temperature, vibration, drop, thermal shock, and network data packet loss. It ensures reliable performance even in extreme conditions, ranging from -20℃ to 60℃, surpassing industry standards and meeting the high-quality standards set by Maxtang.Rest assured of mini pc quality for our valued customers.



High&low
Temperature Test





The Mini PC MTN-AL50 offers a broad spectrum of applications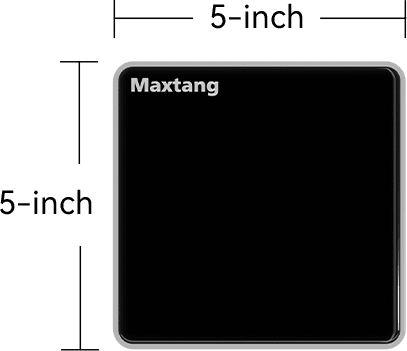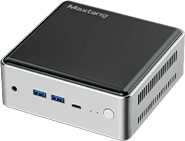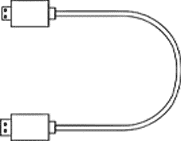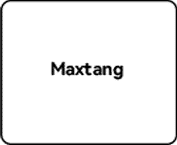 1 x Maxtang MiniPC MTN-AL50
1 x Vest Bracket
1 x Power Adapter
1 X HDMI® Cable
1 x User Manual
*Product has High-Definition Multimedia Interface. 
*The terms HDMI, HDMI High-Definition Multimedia Interface, HDMI Trade dress and the HDMI Logos are trademarks or registered trademarks of HDMI Licensing Administrator, Inc.
*All data is for information purposes only and not guaranteed for legal purposes. Information has been carefully checked and is believed to be accurate however, no responsibility is assumed for inaccuracies.  All other trademarks or registered trademarks are the property of their respective owners and are recognized.
MTN-AL50 Specifications
| | | | |
| --- | --- | --- | --- |
| MTN-AL50 | CPU | i7-1260P | i5-1240P |
| | Total Cores/Threads | 12C/16T | 12C/16T |
| | # of Performance-cores | 4 | 4 |
| | # of Efficient-cores | 8 | 8 |
| | P-core Max Turbo Frequency | 4.70 GHz | 4.40 GHz |
| | E-core Max Turbo Frequency | 3.40 GHz | 3.30 GHz |
| | Processor base Power | 28 W | 28 W |
| | Cache | 18 MB | 12 MB |
| Memory | Type | Dual Channel SO-DIMM DDR5 up to 32GB | |
| Display | GPU | Intel Integrated Graphics (Iris Xe/UHD Graphics depends on CPU) | |
| | Display Interface | 2xHDMI®2.0 plus DisplayPort 1.4 through USB-C | |
| Ethernet | Speed | 10/100/1000/2500 Mbps | |
| | Controller | RTL8125 | |
| | Interface | 2xRJ-45 | |
| Audio | Audio Codec | Realtek HD | |
| | Interface | 1xCTIA Audio Jack, Supports Line-out+Mic-in | |
| Hardware | Hardware | CPU temperature, System temperature, Onboard voltage, Watchdog | |
| Storage | M.2 | 1xM.2 for 2280 NVMe SSD, PCIe4.0 4X Signal | |
| | SATA | 1XSATA3.0 | |
| Expansion | M.2 | 1xM.2 for WiFi and Bluetooth, Supports CNVi | |
| Other I/O | USB2.0 | 2 | |
| | USB3.2 | 2 | |
| | USB-C | 1xUSB-C | |
| | | Support USB 3.2 Gen 2 upstream/DisplayPort 1.4 Alt Mode/Power up to 100W | |
| Power | Standard Port | 19V/20V DC-in | |
| Dimension | Size | 128Lx130Wx52Hmm (5x5x2-inch) | |
| Temperature | Operating Temp. | 0°C to 50°C | |
| | Storage Temp. | -20°C to 70°C | |
| Cooling | Cooling Method | Active | |
| Operating System | OS | Win10/11 64bit, Linux 64bit | |
| *All specifications and photos are subject to change without notice. | | | |